Tomatoes are fruits that are often overlooked. They are packed with nutrients and provide a number of health benefits. In this blog post, we will discuss the benefits of tomatoes and provide three delicious tomato smoothie recipes for weight loss!
Tomato Benefits
Tomatoes are a delicious and nutritious addition to any diet. They are low in calories and high in vitamins and minerals, including Vitamin C, potassium, and lycopene. Lycopene is a powerful antioxidant that has been linked to a reduced risk of heart disease, stroke, and certain cancers.
Tomatoes are also a good source of fiber, which can help to lower cholesterol and improve digestive health. In addition, the antioxidants in tomatoes can help to protect the skin from damage caused by the sun and pollution. Whether you enjoy them raw, cooked, or as part of a dish, tomatoes offer a wealth of health benefits.
There are many different types of tomatoes, and each one has its own unique flavor and texture. When choosing a tomato, it is important to know the application you will be using it for. For example, if you are making a tomato sauce, you will want to choose a tomato that is high in acidity. On the other hand, if you are eating a tomato raw, you will want one that is sweet and juicy. Slicing tomatoes are the type of tomato that you would typically find in a salad or on a sandwich. They are usually large and have a firm flesh with few seeds.
If you're looking for the best tomato type for smoothies, you can't go wrong with cherry or grape tomatoes. These small tomatoes are incredibly sweet and juicy, making them a perfect addition to any smoothie. And because they're so small, they blend up quickly and easily, giving you a smooth and creamy texture.
If you're looking for more of a tomato flavor in your smoothie, then Roma tomatoes are a good option. They're not as sweet as cherry or grape tomatoes, but they still have a delicious tomato flavor that will complement the other ingredients in your smoothie. Whatever type of tomato you choose, make sure it's ripe and juicy for the best flavor.
Good quality tomatoes should have bright, shiny skins and firm flesh.

California Department of Education
So how can you turn tomatoes into a delicious smoothie that will help you lose weight? Here are three great recipes: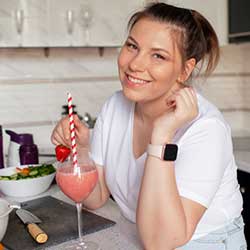 Tomato & Avocado Smoothie
1 cup of chopped tomatoes
1/2 cup of unsweetened almond milk
1/2 an avocado
1 tablespoon of lemon juice
1 teaspoon of honey
pinch of salt
1 strawberry for garnish if you want it to look awesome
Simply combine all ingredients (except the strawberry) in a blender and blend until smooth. Enjoy immediately!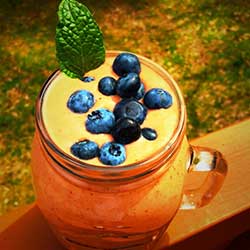 Tomato & Kale Smoothie
1 cup kale, no stems
1 ½ cups tomatoes
½ stalk celery
1 stalk green onions
½ clove garlic
1 tablespoon lime juice
⅛ teaspoon cayenne pepper
pinch sea salt
First, blend the kale and tomatoes together. After you attain a smooth texture, add the rest of the ingredients and blend again. (totally optional: decorate with a few blueberries and a mint leaf)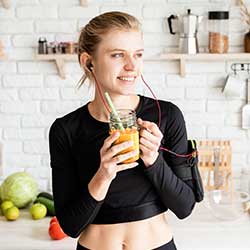 Hot Tomato Smoothie
1 tomato, chopped
1 stalk celery, chopped
1 clove garlic
1/2 cup chopped parsley
1 teaspoon Worcestershire sauce
1 or 2 dashes of hot sauce (Tabasco or other)
1 tablespoon chia seeds
¼ cup ice cold water
At least 4 ice cubes
First, blend all ingredients except for the ice and chia seeds (add these after the first blend and blend again).
Thanks for sticking with me through this entire post! I really hope you're feeling inspired to try out some of these delicious tomato smoothie recipes. They're perfect for breakfast, lunch or a light dinner and are sure to give you plenty of energy and nutrition throughout the day. Also check out our pineapple smoothie recipes, they are delicious.
So what are you waiting for? Get blending!